Green Tea
Harvested leaves from Camellia sinensis which immediately undergo a process of firing or steaming. This action stops enzymatic activity that leads to oxidation (darkening) of the leaves. The moisture in the steaming process produces a more assertive green, bright and crisp character, while firing with dry heat generally produces a smooth, toasty, vegetal, and sometimes smoky profile.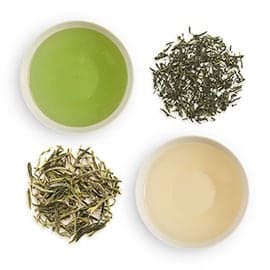 Fuller body, smoky but still very clean flavor, crisper astringency.
Bright and clean,with a slight citrus zest note, and a long, sweet finish.
Nutty, deeply toasty and distinctly smooth and rounded mouthfeel. Often the favorite grade of professional tasters.
Hearty, full flavored, with classic Dragonwell character.
Classic fresh China flavor with smooth, toasty aroma, light body and a clean finish
Tea bag cut; mild, herby flavor, crisp astringency and almost yerba mate-like character
Steamed green tea, produced in the Japanese style; crisp vegetal flavor, bright and clean mouthfeel
Sweet and nutty edamame flavor, with savory green astringency, clean finish
Ingredient / culinary grade matcha; brisk and vegetal, with a deep green color
Also known as Yun Wu; warm, sweet and soft with lingering toasty finish, light tender greens
A very interesting and unique leaf style and cup character, with incredible value. A perfect tea to elevate your loose leaf tea lineup.
limited quantities
5.5 lbs
A famous traditional China leaf style, from the famed Huangshan (Yellow Mountain) region of Anhui, China. Soft, floral and sweet with with a buttery finish.
limited quantities
5.5 lbs
Floral and herbaceous, with a lingering sweetness
limited quantities
11 lbs
sweet, nutty, delicate miniature silver buds, China Famouns Tea
limited quantities
11 lbs
From the Dabie mountains in central China; almond blossom, petrichor, floral finish
limited quantities
11 lbs
MengDing Mountains of Sichuan; a cousin of Cloud Mist Supreme with a slender needle shape, clean floral and slightly sweet
Tea bag cut, clean, strong green tea flavor with bright liquor.
Great daily drinker green. Juicy, clean and mellow flavor, slightly toasty but balanced with notes of cooked savory greens.
Rolled, pan-fired green; rounded mouthfeel, smoky-nutty flavor, balanced with a steamed broccoli note.
Innovative new tea style, offering a break from the classic flavor of traditional Japanese teas. Fresh, delicately floral and smooth with an airy, mellow finish.
Stronger, more pointedly green flavor, a classic grassy sencha with crisp, juicy mouthfeel.
Great balance of fresh new grass and nutty-toasty warmth. Satisfying, smooth cup with a mochi-like sweetness.
Shaded green tea; brilliant lime-green color, savory, creamy body and fresh, sweet cup.
Shaded green tea; juicy, distinctly sweet, very little dryness, emerald cup and notes of spring peas.
Harvested on the 88th day after the first day of spring, this year's selection is delicate and floral, with a creamy mouthfeel and a sweet vegetal aftertaste.
An excellent value matcha; traditional style, stone-ground to a fine powder, the cup is clean and well balanced; a perfect self-drinking tea or blend component.
A well-balanced and very approachable matcha. Organic Matcha Konomi, which refers to the grade used for disciplined practices in traditional tea ceremony training, is excellent as a self-drinking matcha, and also works very well with other ingredients.
Premium sencha blended with traditional style toasted and puffed rice
From one of the most pristine places on earth, the innovative green tea manufacturing at Tindharia lends a crisp and clean flavor, along with all of the healthful aspects of green tea.
A very useful green fannings tea. Bright and astringent, with a sweet and nutty finish, and a mild toasty aroma.