Pu-erh Tea
Pu-erh is a distinctive tea type originating in Yunnan, China. Made from sun-withered and gently pan-fired leaves (mao cha), naturally occurring wild yeasts and beneficial bacteria cause the tea to ferment over time and develop unique and truly complex flavors. Our range of pu-erh teas include classic compressed tea cakes and loose leaf, in both dark (shu) and green (sheng) styles.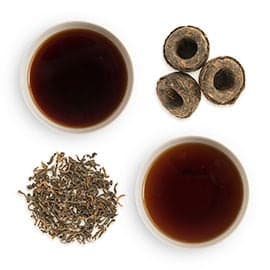 Rich, heavy Pu-erh with classic earthy flavor. Very clean with a soft, lingering minerality
Traditional, earthy Pu-erh. Clean, refined texture, soft body with savory-sweet notes of mushrooms and roasted nuts
Mild, ripe fruit flavor, soft astringency, mellow almost like green tea. Packed in individual bamboo baskets
Classic green Pu-erh character, with smoky-savory edge and matured flavor. Individual mini-cakes (beeng cha).