White Tea
When Camellia sinensis leaves are spread out to wither and air-dry, they naturally develop a slightly darker color change, or partial oxidation. This simple style of tea production—no heat or physical manipulation is applied to the leaves—results in teas with nuanced, juicy, and floral character.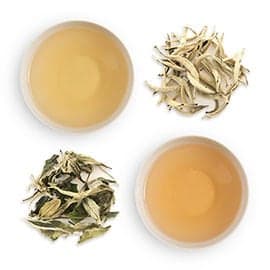 Sublimely soft and delicate, with a point of dryness and airy quality, savory spring greens flavor.
Rounded and full mouthfeel with peach fuzz sweetness, honeysuckle floral tones and pleasing sweet hay finish.
Pronounced sweet aroma of fresh flowers, with flavors of melon and honey. Soft and round mouthfeel, with a lingering dry finish.